Instead of a long parade of beakers and microscopes, this laboratory featured plenty of fresh air and one incredible Italian vista.
"It was definitely weird at first not to be in a traditional lab," Lucero said. "But in so many ways, this felt like something more. We were able to apply the same ideas of classroom work to this amazing real-world setting."
Lucero and 10 fellow undergrads traveled to Italy for a special interdisciplinary course, Sustainability of an Italian Vineyard – A Biological and Chemical Approach. Based at the Rome Bernardi Campus, students commuted each day to a groundbreaking vineyard outside the city's walls.
Studying at the only carbon-neutral vineyard in Italy, the Trebotti wine farm, students had an up-close look (and taste) at the operation's sustainable practices. No secret was off the table as owners allowed students to help cultivate new vines, monitor existing vegetation with special bio-mass drones, and even pet the winery's donkey, Jane – who specializes in fertilizing the soil.
But the winery also doubled as a lab. Each day, students literally dug in, measuring fungi and bacteria ratios in the soil, monitoring moisture content, and assessing the composition of the vineyard's final product, the wine.
"To bridge those knowledge areas, between science, agriculture and sustainability, it was really cool," Lucero said. "And what an experience it was to see a carbon-neutral business that's actually successful, especially in agriculture where they usually have such a huge carbon output."
The course was co-taught by chemistry professor Dr. Tom Ippoliti and director of the Bernardi Campus Thanos Zyngas. Together, the duo combined their areas of expertise to create the interdisciplinary and cross-cultural experience for St. Thomas students.
"I don't think I've ever taught a course where the students were so engaged," Ippoliti said. "They told us so many times over that they were not expecting many of these interdisciplinary experiences, that they didn't realize how these really different fields come together."
Over the two weeks, students embraced that interdisciplinary work through experiments, demonstrations, cultural site visits and guest speakers. And at night, the group was free to experience Rome on their own, getting a distinct taste of Italian culture.
"The substantial work of this course was at the winery. Students had to get their hands dirty in the vineyard – this was manual work," Zyngas said. "But this also was a course where we got to do a lot of relationship building, of sharing culture, both in the vineyard and in Rome."
For nearly 25 years, the Bernardi Campus has welcomed St. Thomas students to Rome, offering a unique opportunity to study in the Eternal City. While many courses have capitalized on the city's incredible art and history, this time around, these professors wanted to put STEM front and center.
"When you talk about Rome of course art comes to mind. Art is the mainstream of many American programs in Rome," Zyngas said. "But Tom and I wanted to give this a different twist and show that science has a place here, too."
That twist on the traditional Rome course offering was much appreciated by Anna Curtler '24. A computer and environmental sciences double major, Curtler jumped at the chance to take a science-focused course at the Bernardi Campus.
"So many courses abroad focus on art or theology, and that's great, but I didn't need those credits," Curtler said. "To get to have that science learning experience during the day at the vineyard, and then when we came back to campus in Rome, experience so much more of the culture and art, it was a really amazing setup."
Curtler acknowledged that such an experience would not have been possible without the scientific expertise of Ippoliti and the cultural connections of director Zyngas.
"Together they made it possible for us to have this amazing experience in a place that was far outside all of our comfort zones," Curtler said. "Their leadership helped us ease the culture shock and experience new things."
All those new experiences may someday lead to new paths for these Tommies. After seeing a variety of technology used in the vineyard, from drones to mulching mowers, Curtler plans to consider a career in agriculture and the use of sustainable technology.
"It really opened my eyes to how much technology is used for sustainable agriculture," Curtler said. "It definitely was inspiring and opened up possibilities about my future."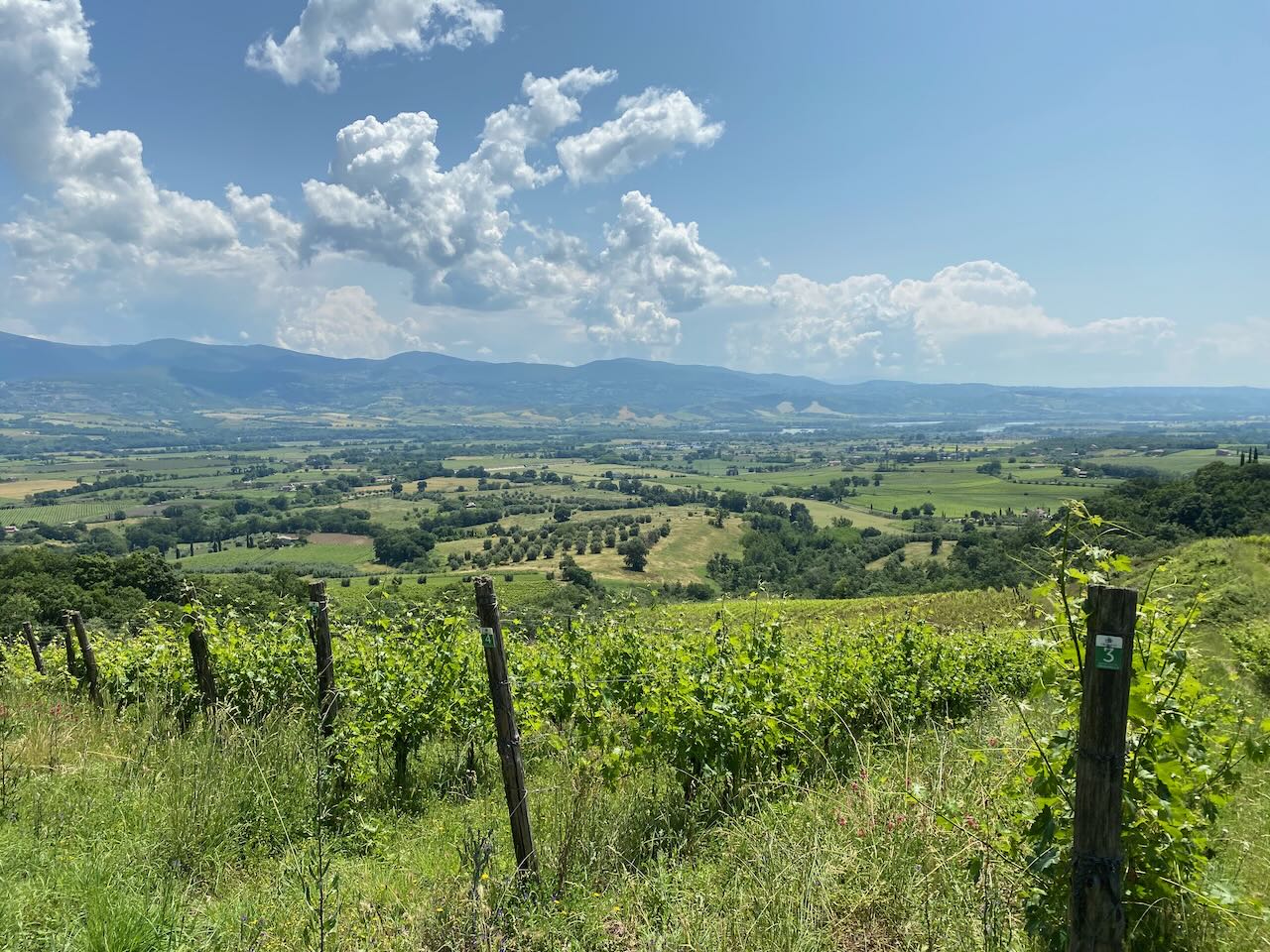 Italian Vineyard Serves as Tommie Science Lab
Italian Vineyard Serves as Tommie Science Lab
Italian Vineyard Serves as Tommie Science Lab
Italian Vineyard Serves as Tommie Science Lab
Italian Vineyard Serves as Tommie Science Lab
Italian Vineyard Serves as Tommie Science Lab
Italian Vineyard Serves as Tommie Science Lab
Italian Vineyard Serves as Tommie Science Lab
Italian Vineyard Serves as Tommie Science Lab