Indigenous Peoples Day is this Monday, Oct. 9, a day set aside to acknowledge and celebrate the immeasurable contributions of Native peoples. There will be no classes on Monday. University offices and select dining service locations will also be closed in observation of the holiday and will reopen Tuesday.
Show Your Tommie Pride at Homecoming Week
Compassionate Connections: Indigenous Stories
The Compassionate Connections Series returns for the 2023 - 2024 academic year. This year the series will examine our connection to the local community and to the land we occupy. What happened on the very land upon which the University of St. Thomas is located? How did the University acquire the land? What was the role of the Catholic Church in the forced assimilation of indigenous children? And where do we go from here?

The first event in the series is titled "Indigenous Stories". Join Dr. Yohuru Williams for a 90-minute conversation with Rev. Jim Bear Jacobs on the role of Christianity in the assimilation, forced removal, and genocide of indigenous peoples in Mni Sota Makoce. The event gets underway at 3:30 p.m. on Oct. 11 in the Iverson Center for Faith.
New Revenue Generation Taskforce Seeks Your Ideas
The New Revenue Generation (NRG) Taskforce is being launched to spur new ideas that result in non-tuition revenue opportunities for St. Thomas. These suggestions may include streamlined or reexamined internal operations, external corporate partnerships and/or new business ventures. Staff and faculty are asked to consider ideas of their own and make submissions. Read more about the core purpose of the NRG and submit ideas here.
Updated COVID-19 Vaccine Available
Updated COVID-19 vaccines have arrived at the Center for Well-Being. Schedule an immunization appointment on myHealthPortal or call 651-962-6750 for an appointment. You can get your updated COVID vaccine and flu shot at the same time, if you choose. Learn more.
Kate Kapsner: Student Body President Realizes Dreams
University of St. Thomas student body president Kate Kapsner '24 is a goal setter. She envisioned her dream job when she was a 16-year-old high school sophomore. Her plan was to line up that job before beginning her senior year of college. Goal achieved. Kapsner recently accepted a full-time position at Ecolab, her dream employer,…
Read more
How Diversity in Staff Impacts Scholars at Dougherty Family College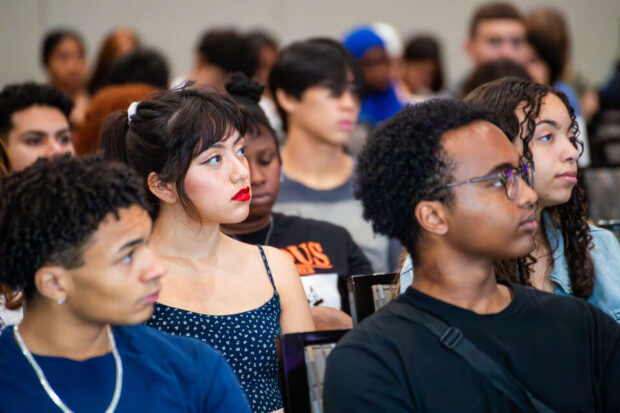 A diverse group of students comes along with diverse experiences that many will never understand. This is exactly what makes Dougherty Family College so special; the people teaching the students and helping them grow are diverse themselves, and they do understand. Located at the University of St. Thomas Minneapolis campus is a two-year college to…
Read more
St. Thomas Faculty Share Research in Takeover of NPR's Academic Minute
The week of Sept. 25 kicked off the University of St. Thomas takeover of NPR's "The Academic Minute" series. The segment is a two-and-a-half-minute daily segment that features researchers from schools around the world. NPR invited five groundbreaking researchers from St. Thomas to share their findings to help listeners better understand the world. Each segment…
Read more
Oct. 6: Cor Jesu at Saint Paul Seminary
Join young adults from around the Twin Cities for an evening of adoration, worship, music and confession. The evening will include the chance to venerate first-class relics of St. Therese of Lisieux, the patron saint of missionaries, and her parents, Sts. Louis & Zelie Martin. Cor Jesu gets underway Friday, Oct. 6 at 8 p.m. at the Cathedral of St. Paul.
Oct. 7: Chapel Arts Series Organ Spectacular
Famous for his electrifying and engaging performances, international concert organist Raul Prieto Ramirez opens the 2023 - 2024 Chapel Arts Series with iconic music by composers ranging from J.S. Back and Franz Liszt to Modest Mussorgsky and Freddy Mercury. The concert is free and gets underway on Saturday, Oct. 7 at 7 p.m. in the Chapel of St. Thomas Aquinas.
Oct. 7: Rectors' Bowl at O'Shaughnessy Stadium
Join the annual flag football game pitting men from The Saint Paul Seminary vs. Saint John Vianney College Seminary. Free and open to the public, this celebration of both seminaries and the spirit of brotherly fraternity and competition takes place inside O'Shaughnessy Stadium, on Saturday, Oct. 7 at 7 p.m.
Free Prescriptions through Nice Healthcare
Did you know that 153 of the most commonly filled prescription drugs taken by St. Thomas employees are available at no cost when filled via Nice Healthcare? Nice Healthcare will be on campus on Oct. 10 from 10 a.m. – 2 p.m. in the Dorsey Commons space on the 2nd floor of the Anderson Student Center. Come learn more about this extraordinary benefit, and register to win gift cards provided by Nice. Learn more on the OneStThomas HR page.

Open enrollment for employees using St. Thomas healthcare benefits starts Oct. 30.
Oct. 12: Empowering Excellence with Dr. Leonel Pena
Gain new perspectives with Dr. Leonel A. Pena, a management expert and leadership consultant, for a dynamic and interactive seminar highlighting Latine Heritage Month. This seminar will lead student, staff, and military veteran participants through capitalizing on Latine cultural traits as strengths, discussion of translating conventional military lessons for success in life and applying foundational tenants of leadership. The seminar is Wed., Oct. 12 from 9:30 - 11:30 a.m. in ASC 340. RSVP here.
Oct. 12: Author Panel: A Good Time for the Truth
The School of Education's next Dean Forum features three Minnesota authors and their contributions to the anthology, A Good Time for the Truth. The anthology provides a range of perspectives on what it is like to live as a person of color in Minnesota. They give readers the gift of touching another human being's inner reality, behind masks, veils, and politeness. The authors include David Grant, Carolyn Holbrook, and Diane Wilson. The panel discussion gets underway Thurs., Oct. 12 at 4:30 PM in MOH 201 on the Minneapolis campus. Register here.
Oct. 13: Hockey at the Xcel Energy Center
Don't miss St. Thomas hockey at the Xcel Energy Center. Make sure you buy your tickets for Friday, Oct. 13, when the men's and women's hockey teams host the Minnesota Gophers at 4 p.m. and 7:30 p.m. Over 6,000 tickets have already been sold. Don't miss out on your chance to be a part of a historic event!
New Alcoholic Beverages Policy and Approval Process
St. Thomas has announced a new alcoholic beverages policy for campus events, St. Thomas- sponsored events, and other off-campus meals. Read the updated policy and approval process here.
Students speak with potential employers during the Fall Career Fair in the Anderson Athletic and Recreation Complex. There were 846 students and alumni who attended the fair alongside more than 100 employers from 26 different industries. (Mark Brown/University of St. Thomas)
Media Highlights:
John Abraham, mechanical engineering professor at the School of Engineering, recently joined meteorologist Paul Huttner on MPR's Climate Cast to discuss how water vapor is driving more extreme weather around the world and in Minnesota.

Tyler Schipper, economics professor at the College of Arts and Sciences, spoke with KSTP-TV about the potential impacts for Minnesotans if the federal government were to proceed with a shutdown.

Rachel Moran, professor at the School of Law, recently spoke with FOX 9 about why Adam Fravel, ex-boyfriend of Madeline Kingsbury, was charged with first-degree murder.

Dr. Tim Sielaff, executive fellow at the Opus College of Business, spoke with the Star Tribune for a story about whether taxpayers and other players across the health sector need to provide more funding for the University of Minnesota's health care training programs.

Read more St. Thomas "In the News" stories.
Know of anything or anyone interesting around the university that would make for a good Newsroom feature story? Let us know at news@stthomas.edu.
Copyright 2023 University of St. Thomas
2115 Summit Avenue | Mail MTH 108 | St. Paul, Minnesota 55105 | USA
(651) 962-6400 | news@stthomas.edu