When the University of St. Thomas Sustainable Communities Partnership Arts Initiative (SCP Arts) and Saint Paul Almanac (SPA), a literary arts nonprofit organization in St. Paul, teamed up to develop an environmental justice storytelling project, the goal was to uplift voices from communities across Minnesota who have been affected by climate change and environmental injustice and who envision an environmentally just future.
Pamela Fletcher Bush, SPA CEO and publisher, and Dr. Maria Dahmus, SCP director, collaborated to develop the vision for the project: a communitywide storytelling contest to bring creative energy and thinking to the gravity of environmental injustice through storytelling that shares lived experiences, increases awareness of systemic injustice, and inspires demand for change.
"This storytelling contest was a great opportunity for creatives to think about the critical aspects of our environment, to bring awareness of the injustices that our communities often encounter in various ways environmentally," Fletcher Bush said. "It was such an honor for Saint Paul Almanac to be invited to partner with the University of St. Thomas Sustainable Communities Partnership for this thought-provoking project."
Developing the contest
Brad Hagen and Said Shaiye, both creative writing graduate students at the University of Minnesota, were selected as contest curators. They developed contest guidelines and named the contest Environmental (In)justice in Mni Sóta Maḳoce to reflect its spirit.
As a part of the contest, SCP also issued a call for proposals to St. Thomas faculty to integrate environmental justice into a spring 2022 course to connect environmental justice concepts to their course content, as a starting point for students to understand environmental justice in their communities. Faculty across 12 academic disciplines received a grant for this work including biology, English, engineering, film studies, French, geology, history, justice and peace studies, psychology, Spanish, social work, and theology.
Hagen and Shaiye each created a video guide to make the contest accessible to people with no previous writing or arts experience and to inspire all who have a story to share to participate. As such, the contest was open to many formats and genres, and there was no fee to enter.
Hagen and Shaiye also shared their understandings of environmental justice to encourage reflection on our own positionality and lived experiences of environmental injustice.
"As an Ojibwe person, when I think of environmental justice, I'm thinking of how our actions today will affect those seven generations from now and how our decisions will impact not resources, but relatives: water, trees, plants, animals – those with whom we share this land," Hagen shared. "To act with environmental justice is, for me, to act with respect toward the rest of creation. It's when we don't mind our relations that injustices occur. Pollutants filling lakes and rivers, choking the fish who reside there; carbon emissions raising temperatures around the globe, causing illness and displacement; pipelines slinking beneath waterways, threatening both safety and sovereignty among tribal nations; these things are all at the forefront of my mind when I think of the environment."
Shaiye shared, "When I think of environmental justice as a Black immigrant, I'm thinking of actions that have affected people in the lands they came from and the lands they now call home, from Africa to America and everywhere in between. I think of the common theme connecting these people and places: economic exploitation that causes suffering in people, suffering for the Earth. I'm also thinking of the wide diversity of national backgrounds represented within the Twin Cities, and how many types of injustice, both environmental and otherwise, brought those people here (Hmong, Oromo, Liberian, Arab, Somali, etc.). Climate change is exacerbating those types of excursions. And of course, the historical injustices committed against Native and African American communities who continue to be disenfranchised and systemically held back from healing, as even more traumas are piled on top of the historic ones, with no sight of restitution or reparations in sight."
"I Want My Future Back" by Evelyn Staats
"Fire Medicine" by Sagirah Shahid
"Animal Economics" by Eric Wilkinson
"Let Us Consider" by Christine Mounts
"Big Lake Smelt Don't Lie" by Robert Hale
"Children of Michigan" by Stephani Maari Booker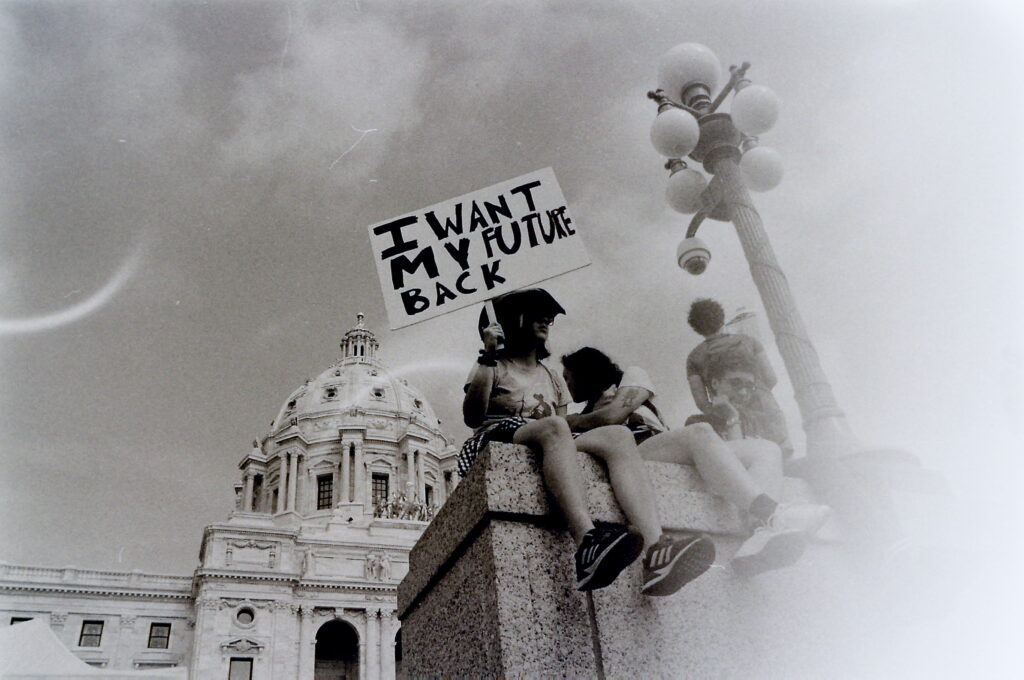 Eric Wilkinson, a creative writing and publishing graduate student at the University of St. Thomas, was one of the contest winners for his piece, "Animal Economics."
He shared the impact that his education at St. Thomas had on his ability to write and reflect on environmental injustice: "I could not have written 'Animal Economics' without first listening to women who practice ecofeminism. The process of listening is vital to understanding. After completing Dr. Elizabeth Wilkinson's (no relation) graduate level Ecofeminism course, I was inspired to examine how I have continually participated in the process of remoteness, which we can define (simply) as a cultural distancing practice which separates us (humans) from our impact on the environment. Wrestling with my own personal relationship with food and the environmental injustice which often follows that production, I was able to begin the work of reflecting on how frequently I have participated in remoteness. I hope that by sharing how these experiences opened my eyes to the regularity of environmental injustice that others will perhaps begin to examine their own remoteness."
Arts-based and experiential learning for environmental justice
Leading up to this storytelling contest, SCP Arts hosted community discussions and workshops to explore how narrative can be a powerful lens to understand systemic injustice and reimagine an environmentally just future.
This arts-based exploration of environmental justice also goes hand and hand with SCP's experiential learning, course-based partnerships with city and government partners. For example, over the last six years, SCP and the Metropolitan Council have collaborated on several course-based projects across disciplines that intersect with environmental justice, including understanding community experiences of climate vulnerability, addressing climate vulnerability in city planning, and implementing best practices in community engagement.
A student in Dr. Olga Herrera's English class described the impact of her experience collaborating with the Metropolitan Council on her course project about climate vulnerability in the Twin Cities: "Altogether this class has taught me that the way a story is told depends on the perspective of the person telling it. I never would have thought that relaying climate data from the Metropolitan Council could be a story, and I didn't realize how much different a story can be based on where you are. It became clear while the class was doing our final project presentations that the space you are in can play a large role in how different your experiences can be."
To continue this work, Dahmus and Dr. Mike Klein, 2022-23 SCP artist-in-residence, are developing learning modules with arts-based pedagogies for faculty across disciplines to integrate environmental justice into their courses, weaving in voices for environmental justice from the community that also inform the design of the modules.
Dahmus shared the purpose of this work for students at the University of St. Thomas: "Our hope is for students to become listeners and partners for climate and environmental justice in our communities, both now and in the future."