Every Sunday, new University of St. Thomas President Rob Vischer emails a personal reflection to University of St. Thomas faculty, staff, students and partners.
The Catholic convert, who was moved from interim to permanent president earlier this school year, pens them all on his own. Some dive into Scripture. Others take a look at current events.
All, Saint John Vianney College Seminary Rector Father Jonathan Kelly said, "show a spiritual depth and desire to lead the university from a prayerful discernment, which is inspiring and hopeful for me."
A unique partnership exists between SJV and St. Thomas, which is "on a journey from being a small, Catholic, liberal arts college to being a comprehensive, nationally known Catholic university," Vischer said. SJV is a collaborative seminary: a separately incorporated entity that partners with a university to provide a degree.
SJV seminarians can get a degree from St. Thomas in philosophy and Catholic Studies. Both university departments are crucial elements in the intellectual dimension of SJV's formation endeavors.
The seminary retains its own priests and staff, but all its seminarians are full-time St. Thomas students who partake in many university activities.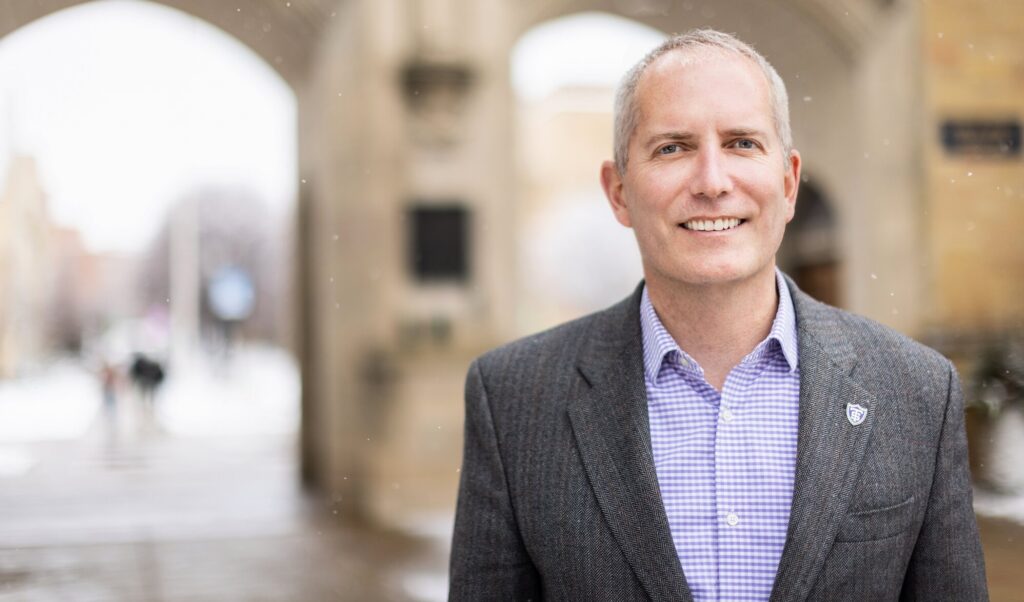 It's a symbiotic relationship, according to Vischer.
"It is a wonderful and powerful privilege for a Catholic university to encompass seminary education," Vischer said. "I believe that the intellectual resources and diverse opportunities for social engagement that the university offers can be a key component of the SJV experience, and I believe that the SJV culture can be a significant influence on the broader university community. SJV students demonstrate that fulfillment lies in their relationship with God and their connection with, through and for others. Seminarians commit their lives to bringing others into relationship. I can't think of a better model for our students and our entire campus."
Many of Vischer's reflections center on building what he calls a "culture of encounter" – a notion he attributes to Pope Francis that "asks us to be present for others, to bring our authentic selves to our day-to-day interactions," the president said. "Can we work to ensure that each person who interacts with us feels seen, known and valued? Can we take time to affirm, to notice, to encourage? This is not just a nice 'add-on' to our quality of life; it is central to the formation of our students and the lifetime flourishing of our graduates. And it will be a central ingredient to our future success as a university."
Vischer has noted the central role SJV plays in creating this culture, highlighting the men's witness to the Joy of the Gospel through their participation in university life when befitting to seminarian formation. "SJV can help us demonstrate the culture of encounter in action," he said. "Whether it's leading the cheers at football games, lending their aid to student service projects or offering a heartfelt greeting to classmates and campus visitors, our seminarians are important contributors to our culture-building work.
"Our Catholic identity has never been more important because it has never been more needed by the world. Even before COVID, surveys showed that young adults are the loneliest age cohort in America. They do not need a transactional approach to education based only on economic gain. They need to be invited into a set of formative relationships that prepare them for lifelong flourishing."
Editor's note: A version of this story originally ran in the spring 2023 edition of Vianney News. The Saint John Vianney College Seminary is located at the University of St. Thomas.