Construction will begin Monday, March 31, on a new facilities and engineering building, with motorists able to enter or leave the south campus at Cretin and Grand avenues only if they plan to park in the Anderson Parking Facility.
Motorists who want to park in lots M (east of Loras Hall), O (east of Cretin and Grace halls), V (west of the Service Center), and P, X and Y (all restricted for the St. Paul Seminary) will need to enter and exit the south campus from Summit Avenue.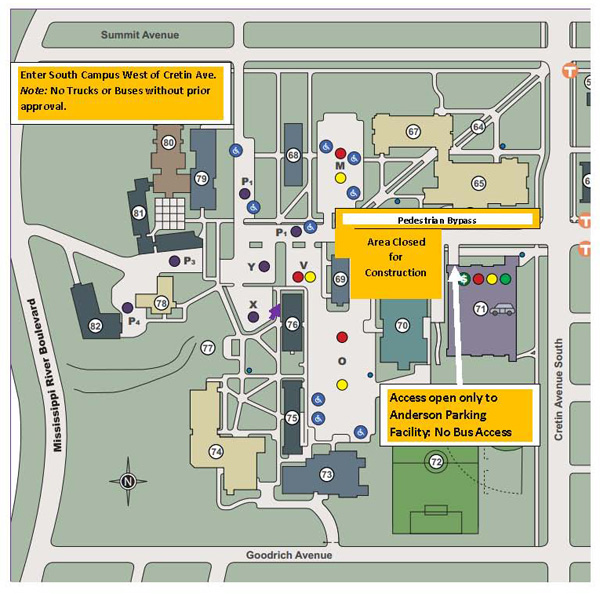 The three-story, 32,000-square-foot building will be constructed on the parking lot immediately north of McCarthy Gymnasium, and will be completed by September for the opening of the 2014-15 school year.
Ryan Companies, the architect and contractor for the $6.5 million project, needs to control traffic around the building site and establish a staging area for construction activity. As a result, barriers will be erected to prohibit vehicular traffic from advancing west beyond the entrance and exit to the Anderson ramp.
Pedestrians will be able to walk onto the south campus from Cretin along the service drive that serves as an extension of Grand. They can walk to the ramp on the south side of the drive or further west on the campus along the north side of the drive next to the greenhouse.
St. Thomas Public Safety plans to post signs along Cretin advising motorists of the south campus traffic changes.
Building to meet variety of needs
The new building will serve as the Physical Plant's home for central receiving, recycling, and equipment maintenance and storage operations, and also will provide additional laboratory space for design projects by School of Engineering students and faculty.
Facilities' operations have been scattered around campus since 2009, when space was lost to construction of the Anderson Athletic and Recreation Complex and the sale of a maintenance garage at 2076 Grand.
Growth in engineering enrollment has left faculty and students with insufficient space in O'Shaughnessy Science Hall to conduct research projects such as those done by the Senior Design Clinic.
"One in 10 freshmen at St. Thomas majors in engineering, and as a result we are bursting at the seams in O'Shaughnessy," said Don Weinkauf, engineering dean. "This will be real working space, where everyone from our freshmen to our seniors will see the engineering process literally unfold in front of them through the work of their own minds and hands."
Here is a floor-by-floor description of the building, which will have elevator service to all four levels:
Basement – It will be used for storage.
First floor – Central Receiving, the Recycling Center and the Grounds Department will be located here, with sufficient space to handle trucks delivering materials. Engineering will have garage space for deliveries. At this time, recycling operations are in the Physical Plant building on the main campus but need more space, and receiving operations recently moved from the lot north of McCarthy to temporary quarters in the Anderson Student Center.
Second floor – The Physical Plant will store and work on vehicles and equipment such as lawn mowers and snow blowers. Those operations now are located around campus, including the parking ramp under Morrison Hall.
Third floor – Engineering will have an open floor plan with 8,800 square feet, and also will continue to use its existing laboratory space in O'Shaughnessy.