Digging for Answers: Microbiology Research Tackles Antibiotic Resistance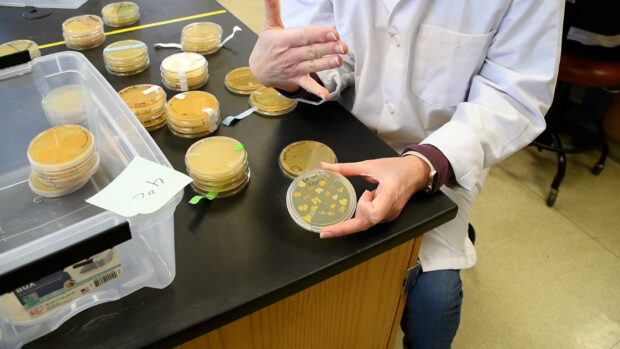 At the start of Dr. Joanna Klein's Microbiology and Health course this February, St. Thomas students were assigned the ultimate biology treasure hunt. Instead of rubies or gold bars, their search was for something much more valuable: dirt. Topsoil is far from flashy, and yet, with just the right amount of luck, it could yield…
Read more
St. Thomas Faculty Share Their Research Lightning Fast
Ten St. Thomas faculty members from across the university took over Scooter's in Anderson Student Center to share five-minute, high-level presentations of their most recent research projects for the inaugural Faculty Lightning Talks. "This (Faculty Lightning Talks) event is very helpful for us to gain an understanding of the actual research work that is performed…
Read more
How St. Thomas Earned Its Top 50 Green College Ranking
Sustainability has been a core part of the St. Thomas mission for years. Recently, that commitment has drawn eyes on a national level. This past November 2022, St. Thomas was ranked for the first time in the Top 50 Green Colleges by the Princeton Review. So how exactly did the university earn a spot on…
Read more
St. Thomas Presidential Volunteer Award Winners Embody Commitment to the Common Good
The University of St. Thomas President's Office is proud to recognize the recipients of the 2023 Presidential Volunteer Awards. These awards honor quality contributions to civic and community engagement efforts by students, faculty, staff and organizations who are a part of the Tommie community. Recipients of the awards embody a commitment to positive social change,…
Read more
Two St. Thomas Teams to Compete in National Business Competition at Schulze School of Entrepreneurship
On April 27, 25 teams of undergraduate students from across North America will gather in Minneapolis for the seventh annual e-Fest business competition, which has awarded more than $1.5 million to hundreds of young entrepreneurs since its inception in 2017. Two teams from the University of St. Thomas are in the running. Hosted by the…
Read more
Breaking Bread and Stereotypes: St. Thomas School of Law Hosts Second Iftar Dinner
The University of St. Thomas School of Law was aglow with activity as it co-hosted its second annual Ramadan iftar dinner Wednesday, April 12, in the Schulze Grand Atrium on the Minneapolis campus. "This (event) is important because this is our religion. To me, religion is the most important thing to a person," Noor Dastagir,…
Read more
Now Live: askHR and HR Service Delivery
We're excited to launch a new tool designed to make life easier for all employees when using HR services! Starting today, askHR will be your first point of contact for all HR-related questions. The centralized, user-friendly portal allows employees to submit HR-related questions and requests.
Learn more
Celebrate Earth Day and Sustainability Week
Head on a campus sustainability scavenger hunt, grab your yoga mat, enjoy a cup of tea, or take part in a river cleanup. All that and much more is happening all this week for Sustainability Week. Join your fellow Tommies as they explore sustainability initiatives and celebrate Earth Day. Check out the full list of events.
April 21: Attend the Marketing Next Forum
While the world around us continues to change, the core work of marketing remains. The challenge lies in preparing for marketing in the near future while continuing to be successful today. Prepare for what's next by attending this interactive, in-person forum sponsored by the Marketing Department and Tommie Marketing Club. The workshop is Friday, April 21, from noon-3 p.m. in Scooter's. Make sure to register.
April 22: Organ Artists Series Featuring Damin Spritzer
Please join us as we continue to celebrate the 35th anniversary of our monumental pipe organ in the Chapel of St. Thomas Aquinas. University of Oklahoma organ professor and internationally acclaimed concert organist, Damin Spritzer, will present an eclectic concert on Saturday, April 22, at 7 p.m. Free and open to the public, sponsored by the Organ Artist Series and the Chapel Arts Series.
Learn more
April 25: Echoes of the Divine
Carry Your Flag at Inauguration
The inauguration ceremony of President Robert Vischer will be held on Friday, May 12. Preparations for the celebration are underway and students are needed to carry their country's flag in the inauguration ceremony. If you're interested in representing your country, click here to learn more.
Minneapolis Campus Parking Permit Renewal Reminder
Spring parking contracts for the Minneapolis campus expire on Friday, May 19. All current permit holders, except those buying summer permits, need to return their access cards to the Minneapolis Parking Office. Those planning to renew for the summer can keep their access card. We will be transitioning to St. Thomas ID cards for 11th and Harmon Ramp access starting in fall 2023.
COVID-19 Dashboard: 4 New Cases Reported
The university reported four new COVID-19 positive cases, including three student and one employee cases, for the week ending April 14, 2023. See full dashboard details on the COVID-19 webpage.

Boosters: It's not too late to receive a COVID-19 bivalent booster if you've yet to receive one. Schedule a vaccination by calling the Center for Well-Being at (651) 962-6750.
Father Chris Collins '93, SJ, celebrates mass and blesses the School of Law's new St. Kateri Tekakwitha icon by Nicholas Markell '84. The event was hosted by the Murphy Institute and welcomed the new icon honoring the patron saint of the environment and Native Americans. (Brandon Woller '17/University of St. Thomas)
Media Highlights: Dougherty Family College scholars and their dean, Buffy Smith, were featured in a story by KARE 11 about the unique cohort model at DFC and the importance of removing barriers for students from underserved communities.

MayKao Hang, founding dean at the Morrison Family College of Health, recently called for robust action to be taken to address health disparities in an op-ed for MinnPost. The piece comes ahead of the inaugural Whole Person Health Summit at St. Thomas.

Karen Julian spoke with the Star Tribune about her journey to become chief information officer at St. Thomas and the top challenges facing IT today.

Read St. Thomas "In the News" stories.
Know of anything or anyone interesting around the university that would make for a good Newsroom feature story? Let us know at news@stthomas.edu.
Copyright 2023 University of St. Thomas
2115 Summit Avenue | Mail MTH 108 | St. Paul, Minnesota 55105 | USA
(651) 962-6400 | news@stthomas.edu