Dean Buffy Smith and DFC's Strategic Priorities
When the incoming class of Dougherty Family College students arrived Aug. 22 on the Minneapolis campus of the University of St. Thomas for the Summer Enrichment Program, they were greeted by DFC Dean Buffy Smith. Although Smith has been with the college since its founding in 2017, this is the start of her first year…
Read more
Tales from the Archives: The University Seal and Coat of Arms
When attending official St. Thomas functions such as commencement ceremonies and building dedications, one often will find the speaker standing behind a podium emblazoned by the university's official seal. Have you ever wondered when the seal was created and what the symbols on it mean? The first College of St. Thomas seal was adopted by…
Read more
Alumnus Travels the Globe for Under-Told Stories Project
Simeon Lancaster '17, ThreeSixty Scholar '13 Associate Producer/Editor, Under-Told Stories Project Journalism assignments have taken Simeon Lancaster '17 all over the world: Mexico, Cambodia, India, Uganda. His first assignment, though, was close to home through ThreeSixty Journalism's Afterschool News Team partnership with the Pioneer Press. The then 14-year-old St. Paul native and homeschool student's task…
Read more
Step-Up Boys Mentorship Program Plants Seeds at St. Thomas
St. Thomas recently hosted its 13th cohort of young students participating in the Step-Up Boys Mentorship Program, a unique partnership between the St. Thomas School of Education and the Northwest Suburban Integration School District. Young men in middle school are invited to participate and learn more about what it takes to succeed in high school,…
Read more
COVID-19 Dashboard: 17 Positive Cases Reported
The university reported 17 new COVID-19 positive test results for the week ending Aug. 19, 2022, and a 94% vaccination rate among students, faculty and staff. See full dashboard details on the COVID-19 webpage.

COVID-19 Protocols for Fall Semester: A number of important updates have been made in preparation of the fall semester, including policies on face coverings, testing, and reporting. Please read our Aug. 11 letter updating the campus community.
As we prepare to welcome the largest number of on-campus residents in our university's history, we're also getting ready for a lot of moving in. To assist in the process, several parking lots will be closed for move-in from Saturday, Aug. 27, to Sunday, Sept. 4. These lot closures include parking lots B, C, D, G; Morrison Hall parking ramp levels R2 and R3; and Tommie North and Frey Hall parking ramps.

For a full list of closures and what lots will remain open, click here.
Campus Shuttle Resumes Regular Schedule
The express shuttle between St. Paul and Minneapolis campuses has resumed its regular schedule ahead of fall semester. Shuttles run Monday through Friday, 6 a.m.-10 p.m. A valid St. Thomas ID card is required to ride.
Read more
St. Thomas Shows Support for Jewish Community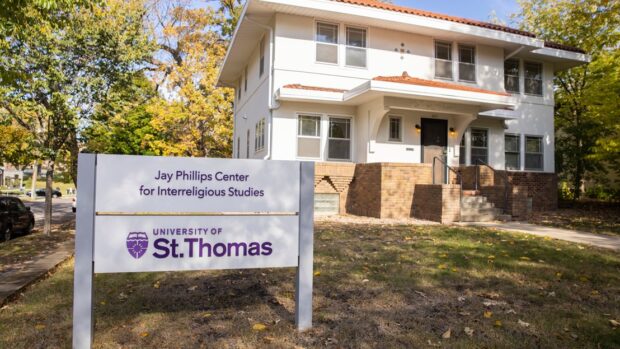 As students prepare to return to college campuses across the country, they'll meet others from many faiths and cultures. The University of St. Thomas strives to be welcoming to people of all faiths. As a result, several university leaders came together to sign a statement of support for Jewish students, colleagues and neighbors. The statement…
Read more
The lower quad glows under the August sun on Aug. 23, 2022, in St. Paul. (Mark Brown/University of St. Thomas)
Media Highlights: In a USA Today profile of law school alumnus Jeff Storms '06 J.D., the University of St. Thomas was mentioned regarding the implicit bias awareness training the university's Office for Diversity, Equity and Inclusion will provide to officers of the Brooklyn Center Police Department as a result of the agreement the suburban city reached with the family of Daunte Wright.

School of Law Professor Mark Osler wrote an op-ed for the Waco Tribune-Herald in response to the recent violent incidents of a man attacking the Cincinnati FBI office and Salman Rushdie being injured by a knife-wielding assailant in upstate New York.

Read St. Thomas "In the News" stories.
Know of anything or anyone interesting around the university that would make for a good Newsroom feature story? Let us know at news@stthomas.edu.
Copyright 2022 University of St. Thomas
2115 Summit Avenue | Mail MTH 108 | St. Paul, Minnesota 55105 | USA
(651) 962-6400 | news@stthomas.edu