VIDEO: Tommie Entrepreneur Yubi Hassan Brews New Venture
Most people would probably give up after being turned down 25 times in a row. Not Yubi Hassan '24. When he was a first-year student at the Schulze School of Entrepreneurship, Hassan and business partner Plamedi Bangila visited 25 Twin Cities dealerships hoping to get work detailing used cars. The first 25 managers turned them…
Read more
Junior Wide Receiver Becomes First Tommie Preseason All-American in the D-I Era
University of St. Thomas junior and wide receiver Andrew McElroy from Bolingbrook High School in Bolingbrook, Illinois, was selected for the 2023 Stats Perform FCS Preseason All-America Team, presented by FCS Ground. He became the first St. Thomas preseason All-American in the D-I era and was the lone student-athlete honored from the Pioneer Football League…
Read more
Making a Big Impact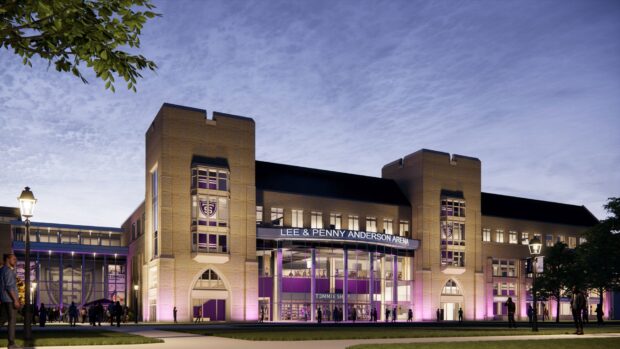 Lee and Penny Anderson: Transforming a Campus. Anyone stepping foot on St. Thomas' St. Paul campus can see the difference made by Lee and Penny Anderson. Fifteen years ago, their $60 million lead gift transformed the university with buildings for athletics, a student center and a parking facility – all of which bear their name.…
Read more
Seminarians Encounter Ministry in Mexico City
This past J-Term, eight University of St. Thomas Church and Culture study abroad program participants witnessed the poverty that exists in Mexico. The Saint John Vianney College seminarians participated alongside SJV priest formator Father Joseph Kuharski. Led by Dr. Michael Naughton, director of the Center for Catholic Studies and Nancy Sannerud, program manager of the…
Read more
St. Thomas Hosts Cultural Day for Annual Tekakwitha Conference
Father Chris Collins, SJ, vice president for mission at the University of St. Thomas, celebrated at the 84th annual Tekakwitha Conference that was held July 19-22, 2023. The conference, which saw nearly 500 attendees, is a gathering of primarily Native Catholics from around the U.S. and Canada and is hosted at a different location each…
Read more
St. Thomas Appoints Chief Communications Officer
The University of St. Thomas has promoted a former public relations agency veteran and ex-journalist to be its top communicator. Andres (Andy) Ybarra was named the university's chief communications officer after serving four years as its associate vice president of PR & Communications. "Andy is a proven leader and is respected for his solid judgment…
Read more
Bittersweet Farewell: Gene McGivern Retires
Gene McGivern retired this week after 45 years in college sports, including the last 29 as the sports information director at St. Thomas. "You are an institution to this institution and the Athletics Department," said head football coach Glenn Caruso. Athletic Director Phil Esten added, "You've done your work with dignity and pride and you're highly regarded in the industry." Watch this Instagram reel to hear more reflections from some St. Thomas coaches, and listen to McGivern's appearance on WCCO Radio for "The Sawkar Salute."
Update for the Purchasing Services Vendor Fair
Due to limited interest, Purchasing Services is canceling the Minneapolis Vendor Fair this year and hosting only the St. Paul Vendor Fair. Minneapolis staff and faculty are welcome to attend the St. Paul event on Wednesday, Aug. 9, from 11 a.m.-1 p.m.
The Arches at dusk on a warm summer evening in St. Paul. (Brandon Woller '17/University of St. Thomas)
Also, see first-person view of a drone fly through the Arches, as captured by videographer Nick Clausen.
Media Highlights:
Chih Lai and Manjeet Rege, both professors of software engineering and data science at the University of St. Thomas School of Engineering, recently spoke with KSTP-TV about the potential risks and benefits of deepfake videos, and how advancements in artificial intelligence are making these fake videos more indistinguishable from reality.

Others interviewed by the news media this week include:

Tim Sielaff, executive fellow and health care management educator at Opus College of Business, who recently spoke with KSTP-TV about the failed Fairview-Sanford merger and the future of M Health.

Mahmoud Kabalan, professor in the School of Engineering, who recently spoke with WCCO-TV about the impact of extreme climate shifts on the use of microgrids.

Charles Reid, professor at the St. Thomas School of Law, who spoke with the Star Tribune about a case related to police conduct that was recently overturned, and the differing opinions of the trial and appellate judges.

Read St. Thomas "In the News" stories.
Know of anything or anyone interesting around the university that would make for a good Newsroom feature story? Let us know at news@stthomas.edu.
Copyright 2023 University of St. Thomas
2115 Summit Avenue | Mail MTH 108 | St. Paul, Minnesota 55105 | USA
(651) 962-6400 | news@stthomas.edu